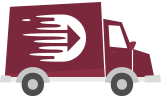 Shipping Policy
Q. Do you ship internationally?
Q. How long will it take for an order to reach me?
It is our constant endeavor to deliver your orders on time.
Within India - Our general delivery time frame is 7-12 business days. In case of manufacturing delays, we might take 12-15 business days, this is mentioned on our website too!
International - From the time of shipping, your orders will take about 10-15 days to reach you.
In case your order doesn't reach you by the expected delivery date, please write to us at orders@bunaai.com or call us on 0141-6652270. We will try our best to resolve your issues.